When you compete in one of the most competitive markets in the world, in this case New York City, you learn to "put up or shut up", as they say. At Media Explode office, that means thinking up ways for both us and our customers to market outside of the box. One of the key strategies that we've developed, tested, and honed is tying in physical products to our digital marketing campaigns.
Yes, you read that right. Physical products. In an increasingly digital world.
As surprising as it might sound, physical products can be a great way to stand out in always crowded markets, like New York. Take us – Media Explode, as an example. We know that there are probably ten thousand digital marketing agencies in NYC. Some of them are quite competent, and many of them are using digital marketing to stand out. So how do we cut through the noise?
Having a physical presence via products certainly helps. For example, we're one of the few digital marketing agencies in New York that offers physical printing services. Some people think print is too "old school", and to be honest, the profit margins are usually quite thin. So why bother? Because it adds value to clients and also provides us with some unique opportunities.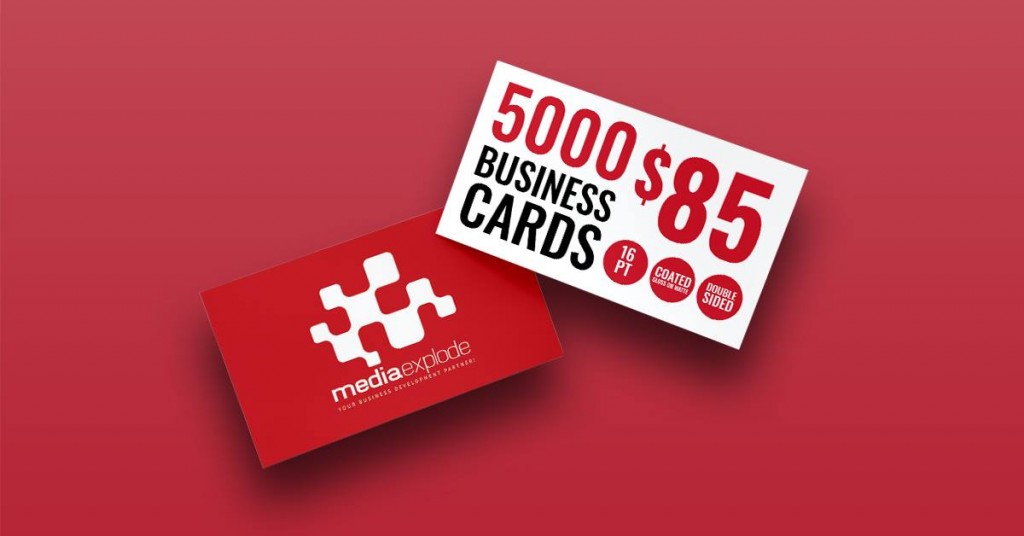 Let's take an example. Occasionally, we've offered free or discounted business cards to startups and entrepreneurs who are on a tight budget. We knew these motivated business owners are going to be pounding the pavement, so we offer them some complimentary business cards, but we made sure our brand was clearly labeled at the bottom or on the back. They go out, do their thing, and pass around cards.Many people take note of the Media Explode brand and end up contacting us for printed cards of their own, as well other marketing services.
But will giving away free promotional products help other businesses? Consider bagels. For every marketing agency in NYC, there's a bagel shop, right? So many bagels and there's only so much cream cheese to spread around. Now, when you buy a bagel, you often end up getting a cup of coffee to wash it down, right? Why not give people a free physical, branded, and reusable coffee mug?
Yes, free. Wait, you might think, why give something away for free? Don't I lose money? Why not charge a few bucks? When you give away that free mug, you're looking to make money, but in the long run. A few bucks up front won't make a difference and could reduce your long-term earnings as fewer people will be using your mug.
So how will you make money off giving stuff away? First, you want to make your customer feel like they're appreciated. That way, the next think they get a hankering for a bagel, they'll be more likely to choose you. Next, you're hoping that they use that cup often. Say customer Joe works in one of the cube farms in Manhattan. He swings by your shop for a bagel on the way to work, branded cup in hand.
As Joe goes about his day, that cup will become a mini, walking billboard. Customer Joe carries it on the subway, walks with it through the streets, and takes it up to his office, where it sits proudly for all the people around the office to see. They see your bagel brand. They become aware of your bagel shop. And Joe's simple possession of your coffee cup offers social approval. Without muttering a word, Joe is saying "this bagel shop rocks."
In a crowded market like New York, such social credibility is especially important. There are countless bagel shops. Even though there's a lot of demand for bagels, you have to justify why people should turn to you to satisfy their doughy urges at your bagel shop.
Sure, that cup might have cost you $3 bucks, but the attention and publicity can quickly pay for itself. Promotional products can be tied in elsewhere. Dentists can offer their patients calendars and notepads. Investment managers can give their clients premium, company branded pens. New York area marketing companies can offer old school printed products at a discount in exchange for joint branding. You get the idea. If you're not using physical products to promote your business, you should be. For more effective and creative promotional ideas for your budding business call contact a promotional product specialist  at Media Explode today at (212) 744-2070 — we have you covered 😉